Plan a Memorable Bachelorette Party in San Diego
There is a lot to do in San Diego for a bachelorette party, but nothing compares to the CAMARADERIE and EXCITEMENT that your group will experience if they start the party here at San Diego Paintball Park.
Mix in 1-2 hours of paintball games with other bachelorette party activities to create a unique day no one will forget. Let the bride blow off steam with an activity guaranteed to make her glad she let YOU plan the party!
---
Centrally located venue for your guests – Our Kearny Mesa location is typically within 15-25 minutes of any hotel you and your friends would be staying at within the city of San Diego. We are a short drive to downtown, top-rated restaurants, spas, wine bars, beaches, and much more!
---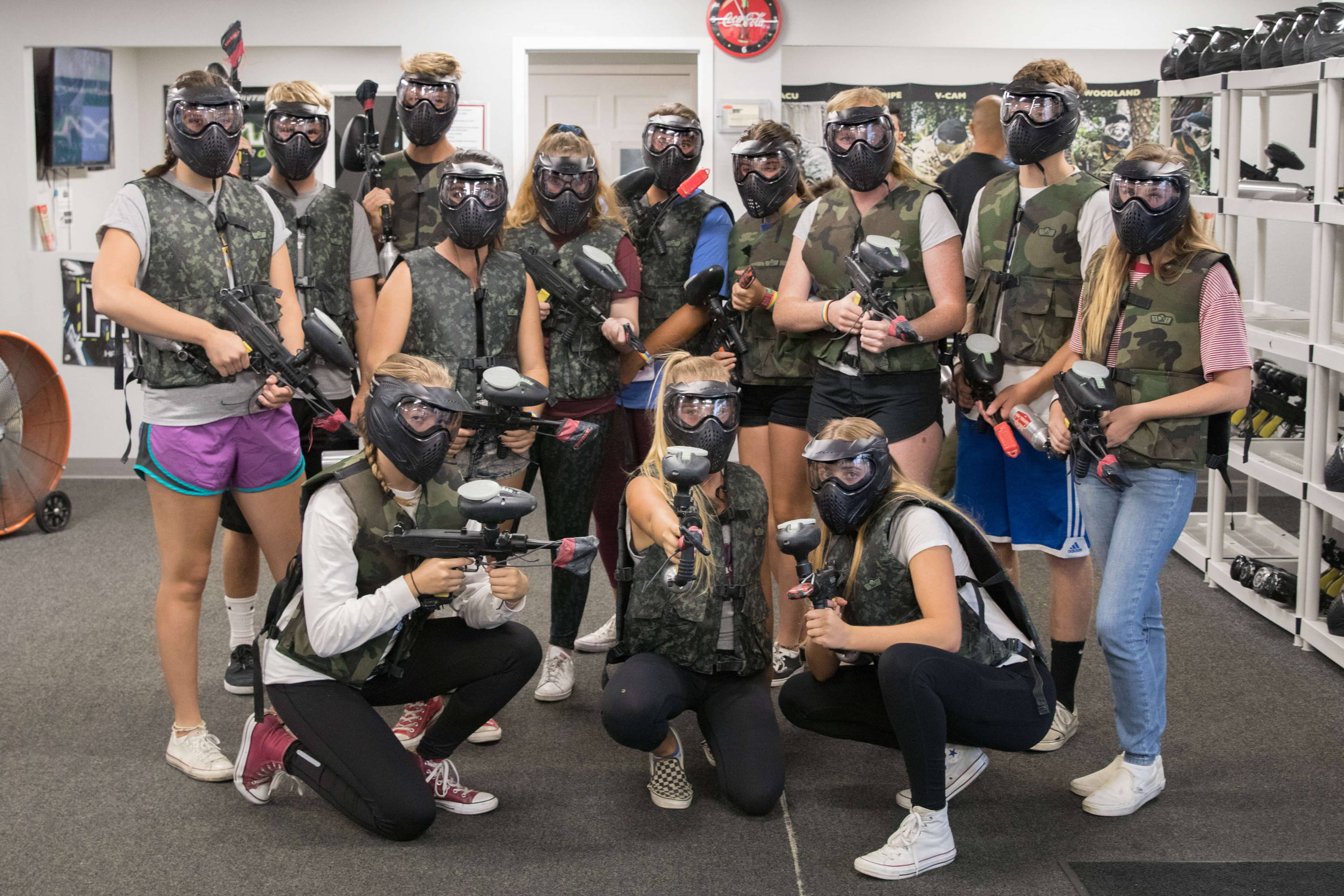 Indoor facility – Being an indoor paintball facility is a HUGE advantage when it comes to planning a bachelorette party.
Weather will never affect your experience. Even though San Diego is known to have the best weather in the country, we do occasionally experience flash rain, killer heat, and cold windy conditions that would kill an outdoor experience.
Private party rooms. Gather between games in a comfortable room with seating and table space. We have several party rooms of various sizes where you can enjoy refreshments and recount your escapades.
---
Lower impact paintballs – We specialize in 50 caliber paintball games to make the experience more appealing to all your friends.
Everyone has fun. Your group will enjoy the fact that they can play paintball without worrying about injury or hurting anyone's feelings. It's always fun to shoot other players, but when you are the one getting "lit up" the fun can fade fast. With our lower impact paintballs there could still be a sting similar to the snap of a rubber band.

Fewer marks. You might have heard of the welt that you can get from standard size paintballs. We can't guarantee you won't get any marks, but the worst that most players get is a small red mark that typically disappears within 24 hours. With proper clothing to cover bare skin, most shots do not leave any noticeable mark.

More fun! Your group will have a blast playing at our park. Our low-impact games provide a unique experience, lots of team strategy, and authentic bonding. And, our referees are the best at making sure you have fun!
---
Book Your Paintball Bachelorette Party Today!
Check out our discounted group rates for any size bachelorette party and check out the FAQ page for general information.
Let us help you plan the perfect bachelorette party -- call now (858) 410-0037 or use our live chat.
At San Diego Paintball Park, our customer service team will ensure that your group has the best bachelorette party experience!