The Best Paintball Birthday Parties In San Diego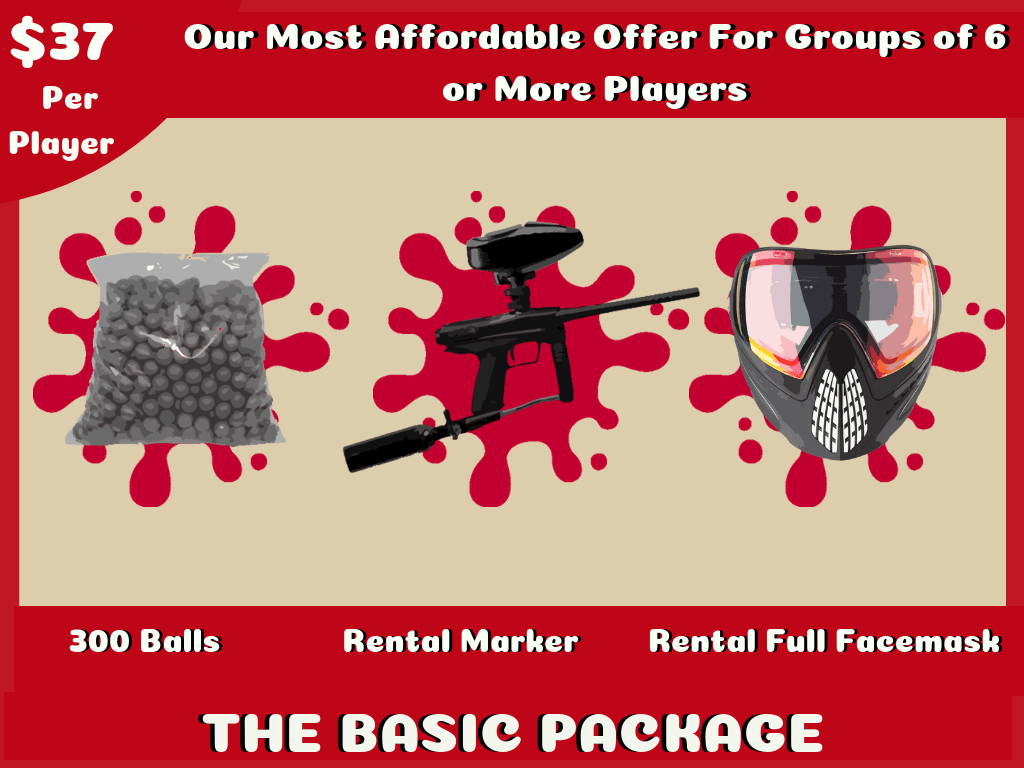 The Basic Group Package is perfect for groups looking to come spend a shorter amount of time at the park. Each player receives: Entry, air fills, rental marker, rental facemask, and 300 balls per player.
---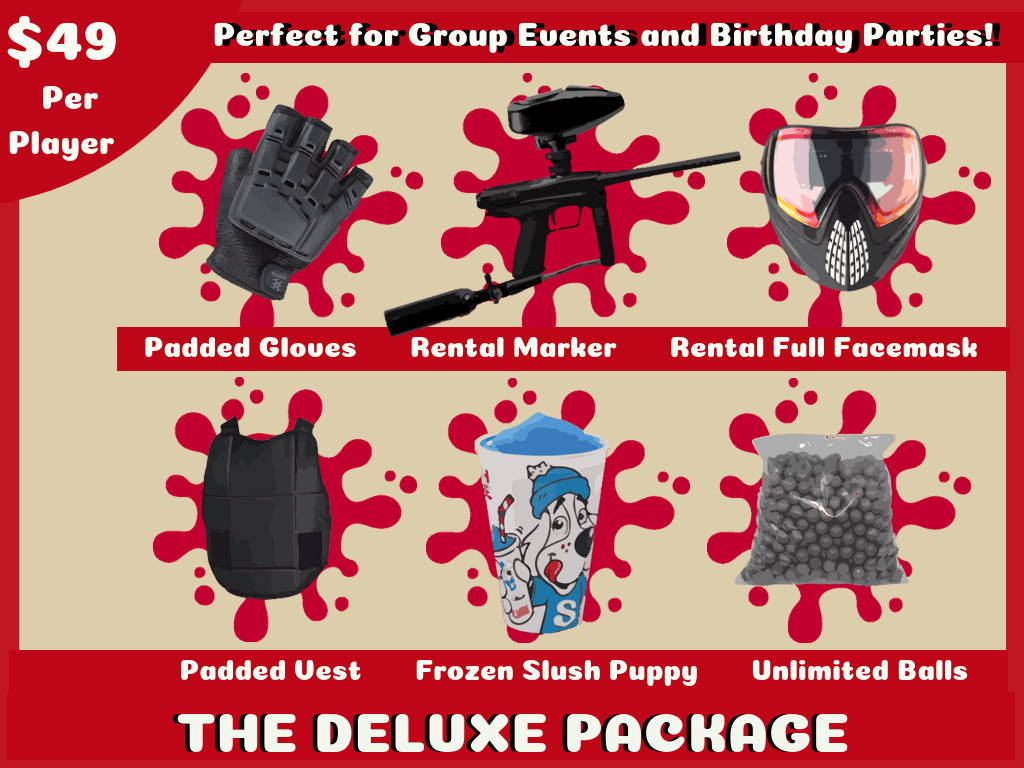 The Deluxe Group Package provides the best option for groups looking to get the most bang for their buck. The package is often used for birthdays and other special group events. Each player receives: Entry, air fills, rental marker, rental facemask, rental chest guard, rental gloves, a 12 oz slush puppy, and UNLIMITED BALLS!
*Play time 2 hours. 1 Hour food and breaks. Paintballs are refilled every 2 games.
---
The prices seen on this page are valid for groups of 6 or more players. These packages must be booked at least 24 hours before the day of play.
Want To Upgrade to Private Games?
We offer the option to book a "Private Party" to groups who do our Basic or Deluxe packages with 10 or more players. To book a private group you must do so at the original time of booking and the additional fee to do so is $99. To learn more about the difference between private parties and public parties simply click here.
Common Birthday Questions
Frequently Asked Birthday Questions
Since we do so many birthday groups at San Diego Paintball Park we get a lot of questions as you can imagine... Here are a few favorites below.
Can I bring in outside food and drink?
Groups that purchase the Deluxe package may bring in food or order food from our provider. Deluxe groups may bring in outside cake, cupcakes, or donuts for free.
Deluxe groups may bring in other kinds of outside food with a flat $15 food fee.
As for drinks, we allow any player to bring in outside drinks that have closeable tops on them -- no drinks in cups or cans.
This should be obvious, but we should also mention no alcohol is allowed on the premises. However, Societe Brewery is next door and they have an award winning tasting room.
What is the age requirement?
The minimum age allowed to play is 6 years old. Some children may be considered to small to play if they are unable to hold the gun correctly. For most, this is not an issue.
How long are the parties?
This depends on the package you go with, but most groups will come for 2-3 hours in total.
Is there a seating area? What can I setup?
If you purchase a Deluxe group package, we have the absolute best party seating of any paintball facility in California.
Deluxe groups enjoy a climate controlled indoor seating area with picnic tables. No more serving cake out in a dusty parking lot or in an unkept warehouse.
.
Why Is Paintball Good for Birthdays?
Because it's FUN! Isn't your birthday meant to be a day spent having fun doing something unique that you wouldn't normally do? We think so.
What if I am Bringing Less than 6 Players?
That is totally fine! We offer packages that are priced per player as well as our 6+ player group packages.
If you are checking out with one of our per player packages, just enter the code "birthday" at checkout. You'll see a special discount just because you took the time to read this.
Paintball Birthdays Explained
Booking Your Birthday Experience with San Diego Paintball Park

While researching venues for your child's upcoming birthday, you've heard about us through multiple sources - Facebook, Google, or maybe word-of-mouth. Now you're here, wanting to know what all the fuss is about, and that's what I'm here to tell you. When you book with us at San Diego Paintball Park, we aren't just simply letting you use our space and equipment to facilitate paintball play, we are all about the experience. We aim to provide an extremely fun, high-energy, family-friendly space that will leave you and your child with an unforgettable birthday party. You probably have a lot of questions, such as: What is the cost? Where are you located? Why are you the best option for my party? I'll go over all of that and more in the remainder of this article, so keep reading to have all of your questions and concerns answered.
   Wait, doesn't paintball hurt a lot?
You're thinking of normal paintball. What we do at our facility is called low-impact paintball. The paintballs we use are much smaller (Less than half the size of a regular ball in fact!) and we tone down the pressure of our markers (paintball guns) so they do not shoot as fast as normal. This means that if you are hit by one of our paintballs, it is significantly less painful, giving just a very light sting. We compare it to being snapped by a rubber band. Using this mild version of paintball opens up the game to a wider audience, allowing us to accept players as young as 6 years old. With the regular sized paintballs, you have to be at least 10 years old and, even at that age, I would advise against it, because they hurt a lot more than our low-impact balls. All-in-all, our toned down, low-impact paintballs will provide your kids with a stress-free, memorable birthday experience that will leave them wanting to come back every weekend to play!
   

Does anyone ever get injured playing paintball?
We would like to say never but there are always rare instances that occur. We are proud that we have never had a serious safety incident in our 4+ year business. In fact, did you know that - statistically speaking - paintball is actually safer than bowling? We have several safety rules in place that are designed to keep our facility 100% safe and injury-free. The most important rule that we have is to require that all players wear a protective face mask at all times when they are on the paintball field. Our masks are of the highest quality, with comfortable foam around the eyes/nose area, and dual pane anti-fog lenses that keep the player's vision clear and able to see what is happening at all times. The masks are also equipped with chin straps that we require the kids to use, because it prevents the possibility of the mask falling off for any reason and it helps remind them that it must stay on their face. The masks are included with every package at no extra cost, as they are required, and we thoroughly clean and sanitize them after every use, however brief the usage might be.
   
In addition to the mask, we have other rules that are integral to player safety, such as our strict 50-yardline rule. This disallows players from the opposing team to pass over the 50 yardline to your side of the field, meaning that nobody will get shot point-blank, or in the back. Another concern is blind-firing, which is when players stick out their gun from behind cover and shoot without looking. This makes the entire field unsafe, as the player doesn't know if they're shooting the referees, their teammates, or the players that are out on the sidelines. The referees are always watching out for blind-firing and put a stop to it immediately. We required each and every player to run through two safety briefings before they play: one before getting their equipment to explain basic safety regulations and equipment usage, and another briefing on the field that goes over more specifics of the play area safety and rules. With these briefings, we seek to teach our players that our goal is for them to be as safe as possible, while still having a great time playing paintball.
One final note on safety is that we have referees that uphold a high standard of professionalism, ensuring that teams are as fair as possible and that everyone is having fun and playing safe. Their job is to facilitate play in the safest ways possible and to remove any players from the game that are making it unsafe for themselves or the others around them.
   

Is this just for kids?
While we are extremely popular with kids due to the low-impact paintballs, this does not exclude adults from joining in on the fun as well! We offer all sorts of events, including: kids and adults birthdays, corporate outings, church groups, and even bachelor/bachelorette parties. Players of all ages have fun playing paintball with us at San Diego Paintball Park!
   

What is your facility like?
Our facility, which is indoors, is located in Kearny Mesa just off of the 163 freeway, right in the center of San Diego County. This puts us within 20 minutes of just about anywhere in San Diego, making us the most accessible paintball park in the area. Upon arrival, you'll see that from the rental equipment to the playing field and the staging area, we've taken several measures over the years to improve the cleanliness of our facility. We clean all our paintball rental equipment and masks after every single use, no exceptions. We are constantly making sure the party tables are spick-and-span for our Deluxe package groups. We even spend several off-hours every week removing old paintballs from the turf to keep it looking brand-new. All of these measures, combined with our stain-free paintballs, add up to one thing: the cleanest paintball experience you'll ever be a part of.
   

Can I watch my kids play?
Absolutely! We have a couple of ways to watch the games, including the ability to go onto the field with the kids to watch from the sideline (with a mask on!). This is the best way to get great action shots of the party. This does leave open the possibility of getting shot accidentally by one of the players in the game, so that is something to consider. It's worth noting that you do not have to pay anything in order to go onto the field, you need only fill out a safety waiver. If you don't want to get onto the field with the kids, you can watch the field through large viewing windows.
   

I'm not sure if this is the right place for my party, can I come take a tour?
Definitely, we recommend and encourage coming in to view the facility beforehand, so we can show you that we're the perfect fit for your child's upcoming birthday party. We do recommend you call ahead and schedule a time to come in and meet with one of our representatives. This ensures that they're available to answer all of your questions, and you can see firsthand just how your party will unfold. We also have a Google Virtual Tour, that allows you to see what the facility looks like step-by-step, right on your computer!
   

Okay I'm convinced this is the right choice for my party, how do I go about booking it?
Booking your party is as simple as giving us a call and speaking with one of our representatives. They will walk you through the entire process, answering all of your questions in detail and setting up your reservation for you. If you lead a busy life like many of us do, you also have the option of booking on our website, through the 'Group Pricing' page. However, we do recommend booking via phone, as we like to give that personal touch and interact with our guests - we may even offer you some extra incentives for booking with us on the phone! We do require a payment at time of reservation, but we give you two options: either put down a 50% deposit and pay the other 50% on arrival, or you can pay the full amount up front. Please note that if you decide to go with the deposit, you will not be eligible to receive any current discounts or specials.
Is there some sort of liability waiver we need to fill out?
There is a waiver that every single player or on-field spectator must fill out, regardless of age (Participants under the age of 18 must have a parent or guardian sign for them). After placing your reservation, we will email you a confirmation for the party that will have a link to the waiver that is connected to your party, so we can easily keep track of who has filled out their waiver. If anyone forgets to fill it out ahead of time, we do have computer stations for them to use when they arrive, but it does take longer to get your group started if the waivers are done this way. Once you have filled out a waiver, it is good towards future visits for the entire calendar year (Jan 1st-Dec 31st).
   

What is the timeline of the party once we arrive at your facility?
After all of your players are here and checked in with wristbands, we go over the safety rules and hand out equipment, which takes about 10-15 minutes depending on group size. After this, they'll go straight out to the field to play their first few games. At this point, you won't see them for about an hour while they're out there shooting each other up. After an hour of playing, players exit the field to take a break for about 20-30 minutes.
After this break, players head right back into the action for about 30-45 more minutes if your group has paintballs remaining. After this second round of play, we will collect the equipment and send the players back to the lobby. If your group purchased a Deluxe package, this is the time to close out the party with cake. Overall, our parties typically last about 2 to 2-1/2 hours, depending on group size and which package you decide to go with. 
   

What do we wear? Paintball ruins clothing right?
Paintball normally ruins your clothes. However, we use a special blend of paint that is water-based rather than the standard oil-based, meaning that it washes right out! No stain, no problem! With regard to what you should wear, we generally recommend, at minimum, covering up bare skin. The paintballs do have a light sting - more so on bare skin - so even just a long sleeved shirt makes a difference. Gloves are a big help as well to avoid painful finger shots. Don't have your own gloves? We've got you covered! We have some packages that include rental gloves, otherwise you can purchase them for just $5, and when I say purchase, that means you get to keep the gloves. We also sell neck protectors for $5 and rent out chest protectors, long-sleeved jerseys and pants for $5 each. All players are required to wear close-toed shoes, no sandals are allowed. The best type of shoes to wear are some sort of athletic/running shoes.
  Can we bring our own food?
Only groups that purchase the Deluxe group package can bring in food.
Any group may bring in outside non-alcoholic drinks that are in individual containers with resealable lids (no cans or two liters with open cups!).
Deluxe groups may bring a birthday dessert food (cake, cupcakes, donuts) for free. Any food the deluxe group bring in beyond that requires a one-time, flat payment of $15.
We also offer deluxe groups the option to order pizza through us. Pizza orders must be placed 48 hours in advance. See our food offerings HERE.
   

Do you have somewhere I can put my cake/ice cream cake?
We do! We have a refrigerator and freezer to store your cake, depending on your needs. Remember, food is only allowed for Deluxe group packages. Just ask a staff member at the front counter to store your cake, and they'll take it and bring it back to you when you need it.
Will we have an area to set up and eat pizza and cake?
If you purchase a Deluxe group package, we will allot a space in our staging area for your party to use for taking breaks and eating food. From this area, you can view the kids play from the windows.
While we provide table cloths on all of the tables in this area, you're also welcome to bring in decorations for your area (any wall decorations must be taped, no staples!). The amount of space provided correlates with the number of players that you have in your party, so please keep in mind that this space will be shared by the players and any spectators that stick around for the party.
   

How much does a party cost?
The answer to this questions depends on the number of players that you intend on having at your party. We have two different packages available for each group-size, one basic and one deluxe. Since we adjust our pricing once or twice a year, be sure to check the current group pricing page.
   

What if we aren't sure how many players we will have?
You're not the only one with this question, many of the parents planning parties with us deal with the same issue. There's no way for you to know if one of the kids will get sick, or have an unexpected soccer playoff game. This is why we allow you to drop the player count up to 48-hours in advance of your reservation. So, if you book for 12 players and two of them have to drop out, you can call us up to 2 days before your reservation to drop to the 10-player package and receive a refund for the difference with no penalty. If it's last minute and you're within the 48-hour window, you can still keep the difference as a non-expiring credit for a future party, or use it towards extra purchases made at your current party. The 48-hour rule also applies to increasing your player count: you can increase your package for the same per-person cost as the original package. Within 48-hours, the cost goes up roughly $10 per player. Please keep in mind that any increase in group size is subject to availability, so we advise overbooking when you first place the reservation, to ensure you have those spaces reserved if necessary.
Is there anything I can get to enhance my child's birthday party experience?
Check our Party Upgrades page for additions that can take any birthday party from awesome and crank it up to super-awesome. While your party will still be great without these additions, they definitely add to the experience. Nothing is more memorable than the birthday boy grenading all of his friends and catching it on camera!
See Our Birthday Party Reviews
When it comes to throwing a very special paintball birthday party there really is no one better to call... We have thrown literally thousands of paintball birthday parties over the years and we like to think we have it down!
Dont' just take our word for it though... Check out some of our past customers thoughts!
---
You want your birthday party to be memorable, fun, and safe for everyone you are inviting. So why are you still holing your events at a venue that can't satisfy all those?
Our birthday parties are sure to be memorable to your guests because not many people play paintball very often! It's a fun activity that's out of the ordinary for most. Our 100% safety record speaks for itself with no major injuries reported while we have hosted over 100,000 players in our history!
Don't risk getting caught out in the rain or the scorching heat of summer. Our climate controlled party areas are perfect for enjoying some cake and food after playing low-impact paintball in our indoor arena.
Our mission is simple at SD Paintball Park:
"Paintball should never be scary, painful, or intimidating. We provide the most welcoming beginner environment in the industry to ensure that all players regardless of age or experience have a fun, safe, and memorable experience."
So contact us today about your birthday plans! We have special birthday offers above for our coupon club members so be sure to join today!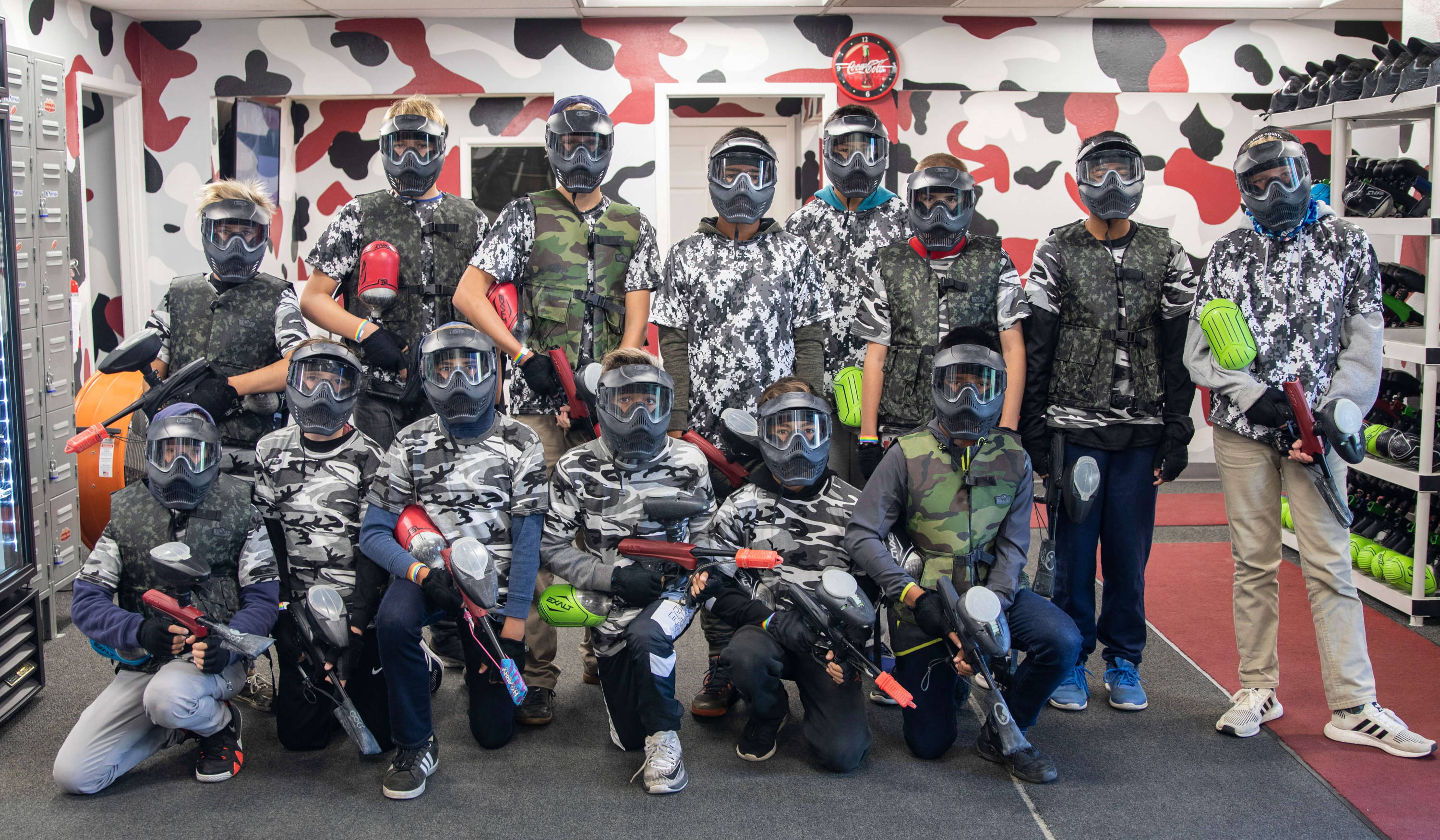 Getting ready to hit the field!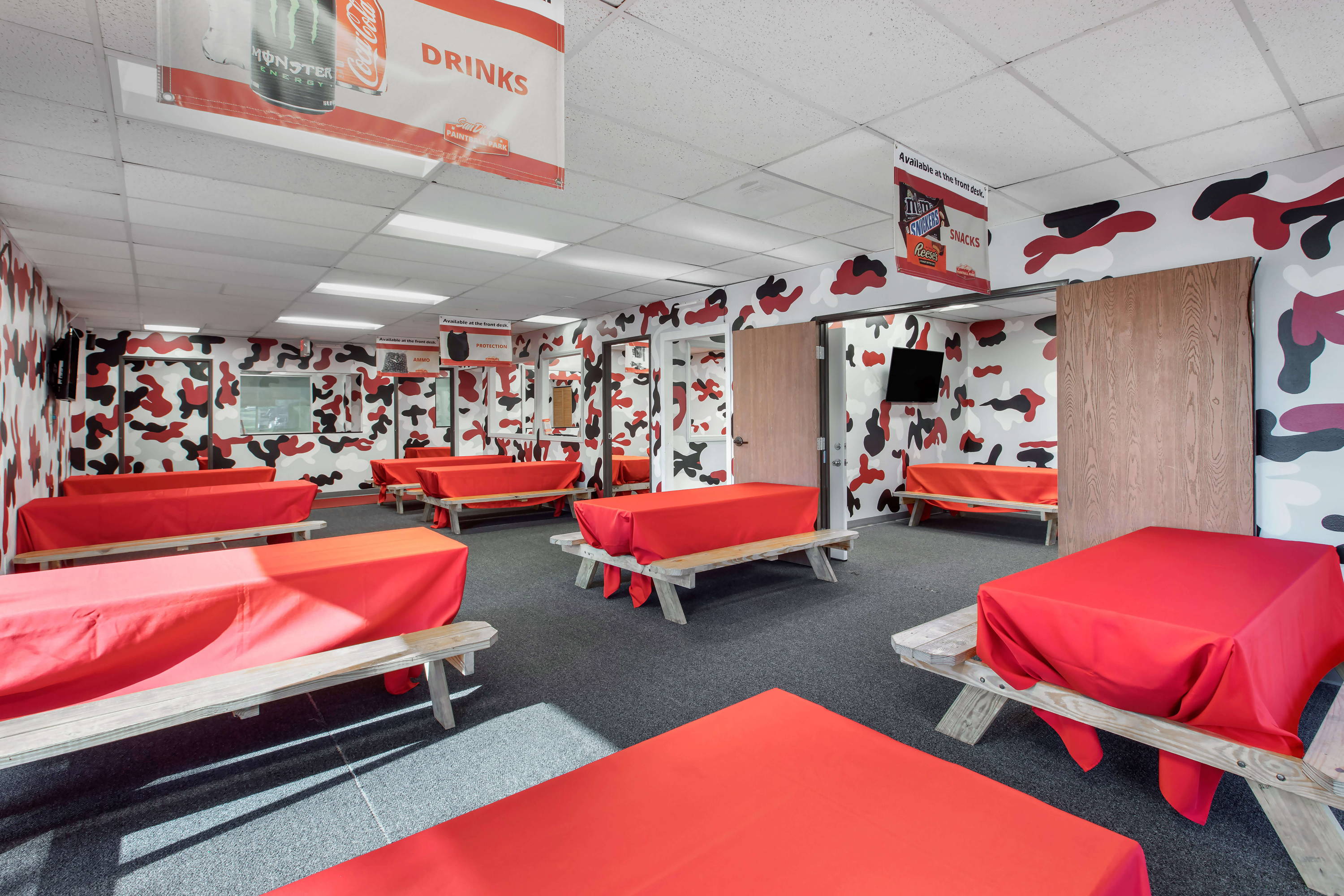 Welcome to our party area 🎉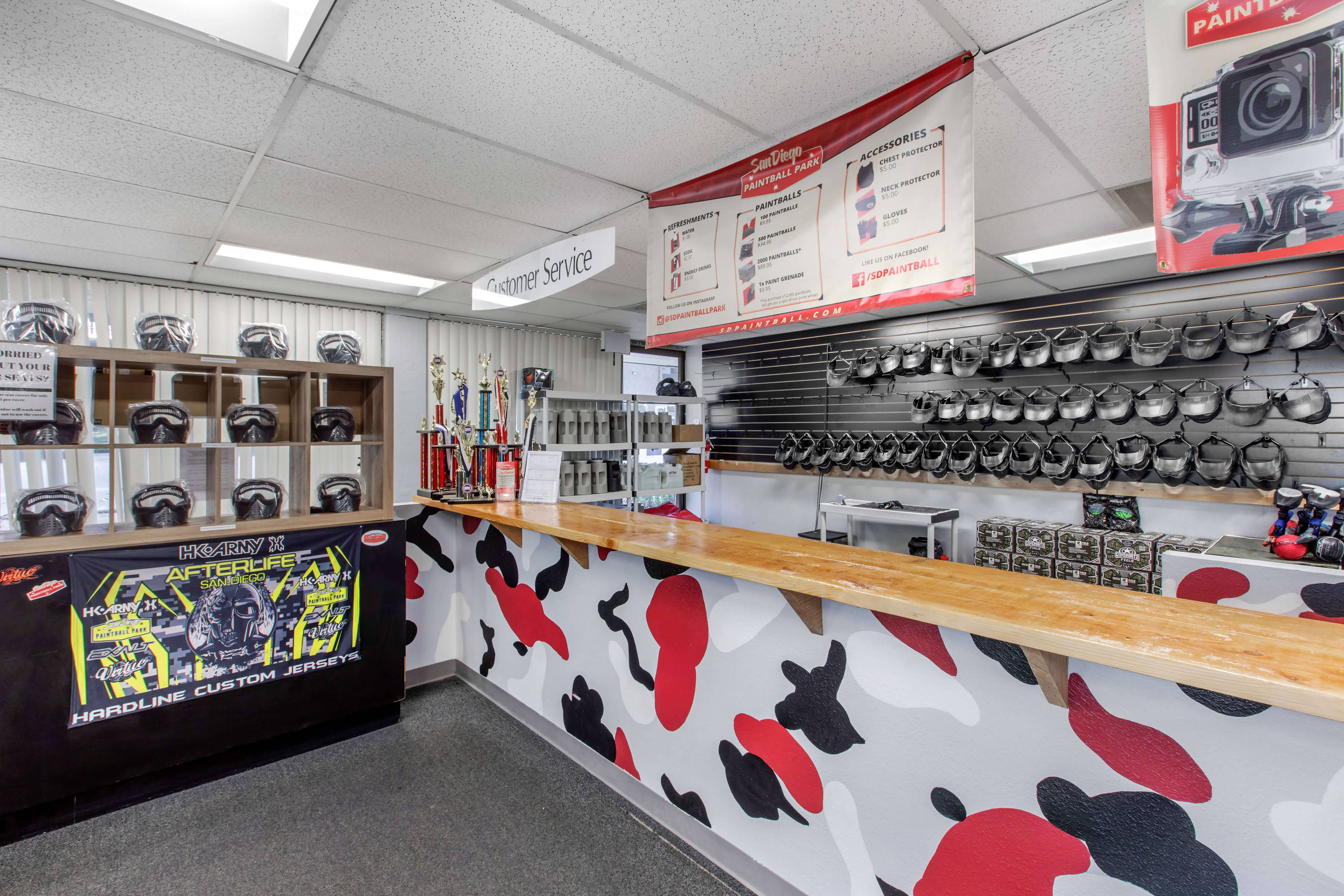 Visit our customer service desk for assistance 🤔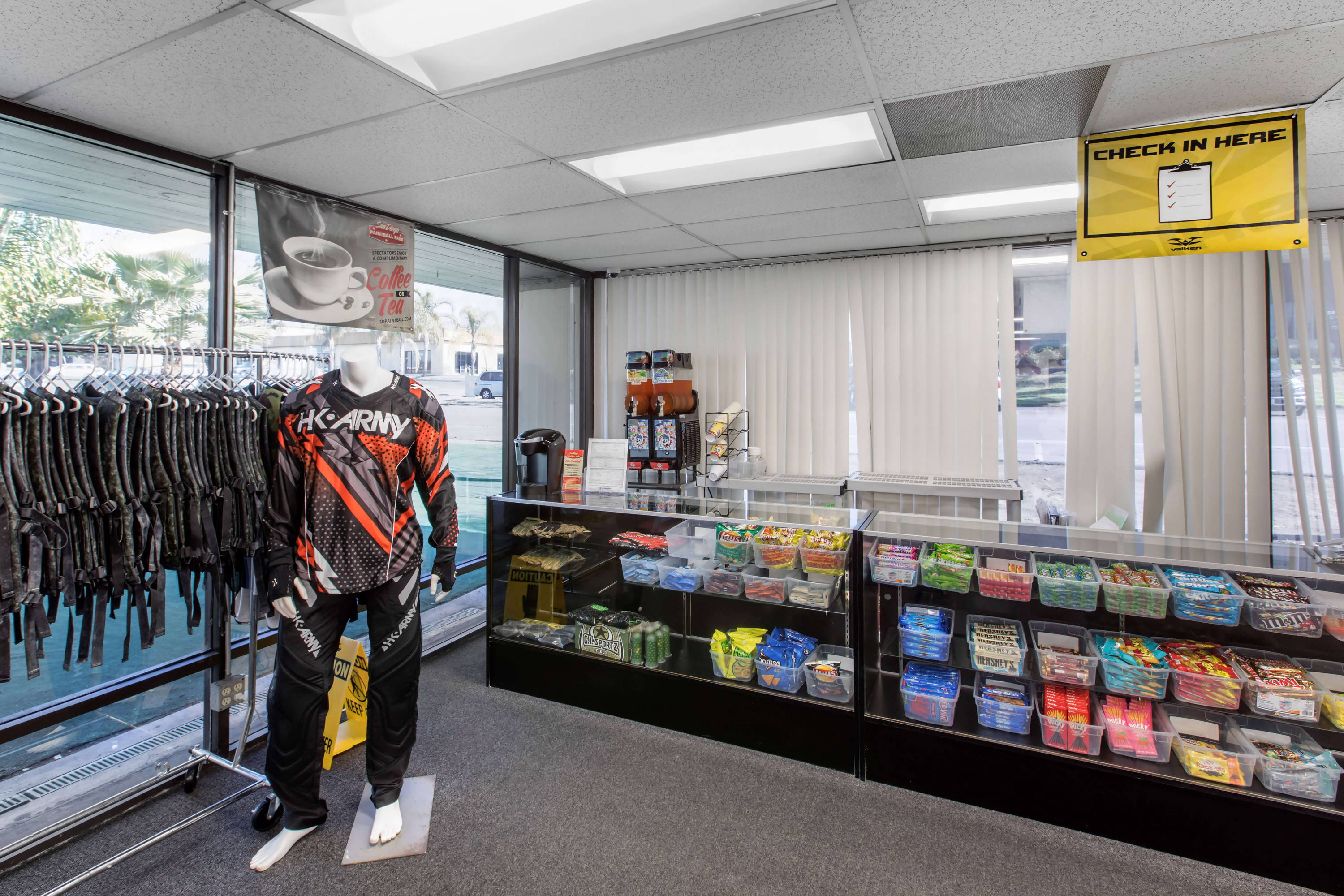 Load up on snacks for your breaks in-between games 🍿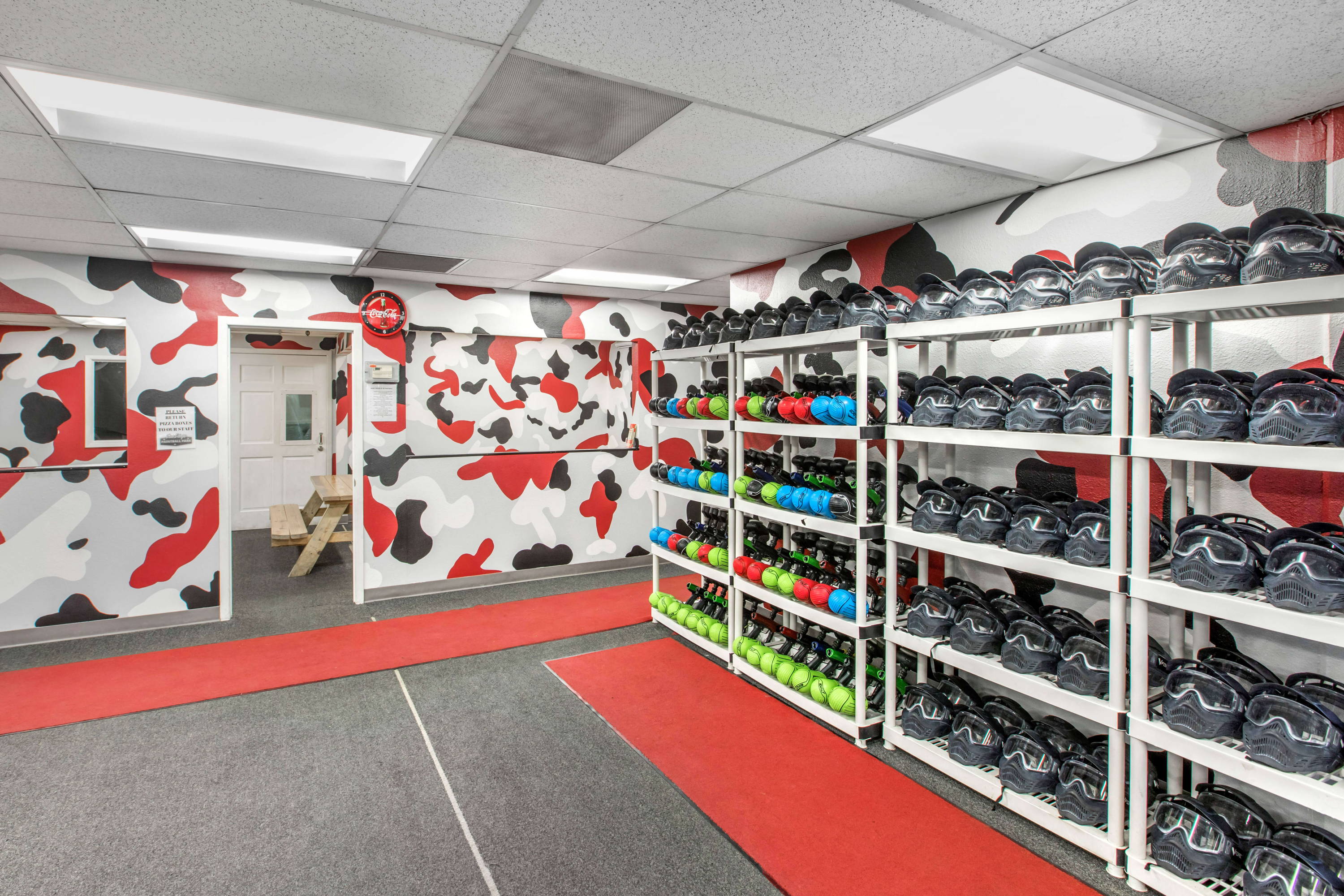 Grab your gear and get ready to play 🔫
Every week our playing layout changes to provide a unique experience every visit 😎