Plan a Memorable Bachelor Party in San Diego
There is a lot to do in San Diego for a bachelor party, but nothing compares to the CAMARADERIE and EXCITEMENT that your group will experience if they start the party here at San Diego Paintball Park.
Mix in 2-3 hours of paintball with other bachelor party activities to create an impressive day no one will forget. Let the groom blow off steam with a heart-pumping activity guaranteed to make him glad he let YOU plan the party!
---
Centrally located venue for your guests – Our Kearny Mesa location is typically within 15-25 minutes of any hotel you and your friends would be staying at within the city of San Diego. Since you won't spend all day driving to and from a remote location, you'll have more time during your stay to enjoy other activities around the San Diego area. We are a short drive to downtown, top-rated restaurants, bars, brewery tours, driving ranges, cigar lounges, beaches, and much more!
---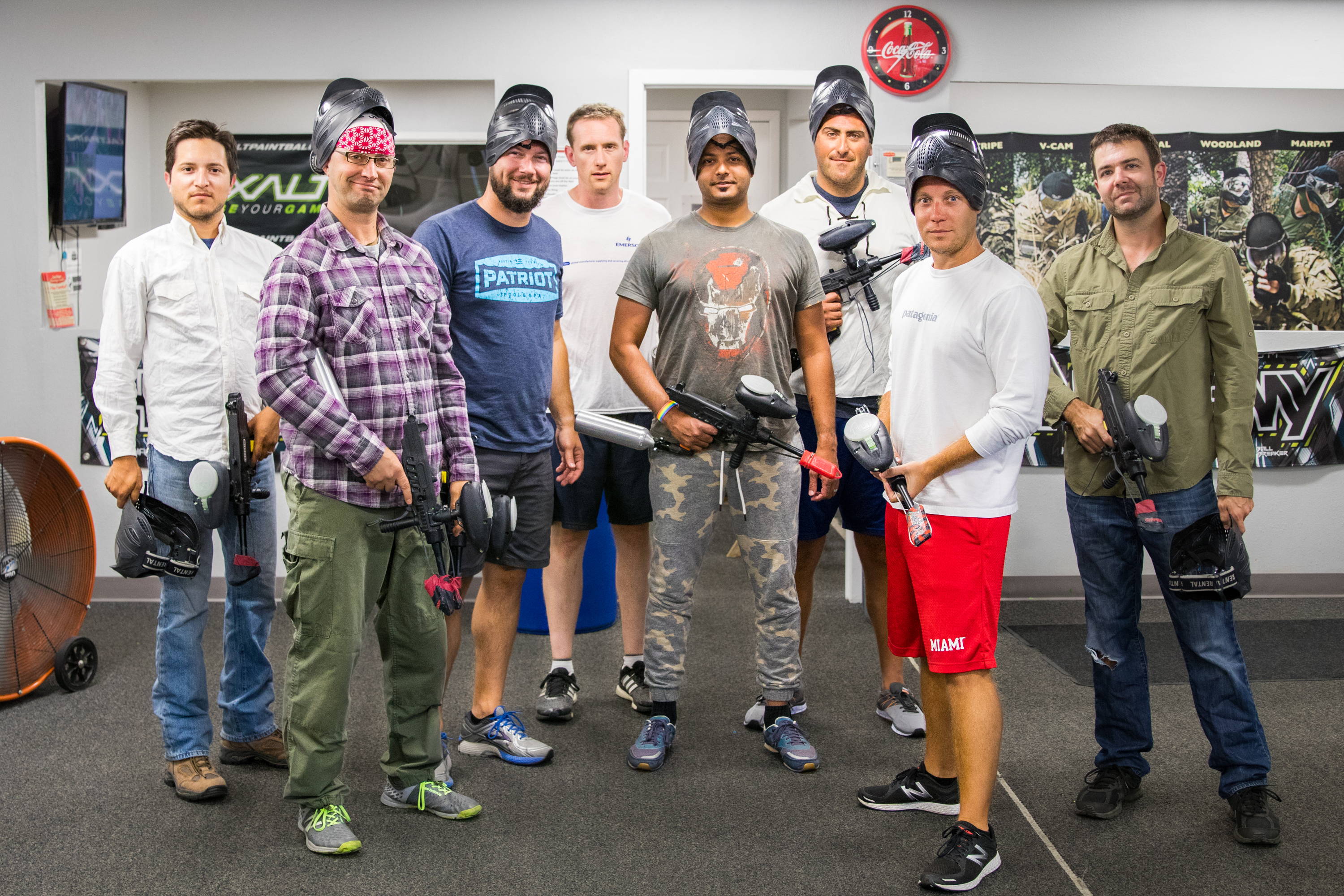 Indoor facility – Being an indoor paintball facility is a HUGE advantage when it comes to planning a bachelor party.
Weather will never affect your experience. Even though San Diego is known to have the best weather in the country, we do occasionally experience flash rain, killer heat, and cold windy conditions that would kill an outdoor experience.
Gameplay is much more concentrated. You'll spend much more time actually playing paintball and less time walking to and from the course. At an outdoor park you may have to walk a quarter mile to and from the field. At our indoor facility the walk from check-in to the field is less than 50 feet! If you want to pack in a full day of experiences, spending too much time and energy on one single activity will severely limit the rest of your day.
---
Lower impact paintballs – Why would a bunch of grown men want to play low impact paintball?
Everyone has fun. Your group will enjoy the fact that they can shoot each other up without worrying about injury or hurting anyone's feelings. Standard paintball, although fun, can bring out the worst in some groups. It's always fun to shoot other players, but when you are the one getting "lit up" the fun can fade. With our lower impact paintballs there still is a sting to the hit, but it is much more bearable for all players (even Uncle Joe).

Fewer marks. Do you really want the groom and the groomsmen to show up to the wedding with black and blue welts all over their bodies? Just imagine what your future sister-in-law may think of that. Now, I am not saying that our paintballs will leave no marks on you. But the worst that most players get is a small red mark that typically disappears within 24 hours of being shot. Most shots do not leave any noticeable mark on players.

More fun! Trust me when I say that you and the group will have a blast playing at our park. You might expect the low impact experience will be more "kiddy", but the only difference is that the paintballs are smaller in size (50 cal), break easier (to avoid those dreaded bounces), and hurt much less on impact. The games are just as heart-pumping and full of team strategy. And, our referees are the best at making sure you have fun!
---
Book Your Paintball Bachelor Party Today!
Check out our discounted group rates for any size bachelor party and check out the FAQ page for general information.
Let us help you plan the perfect bachelor party -- call now (858) 410-0037 or use our live chat found below.
At San Diego Paintball Park, our customer service team will ensure that your group has the best bachelor party experience!